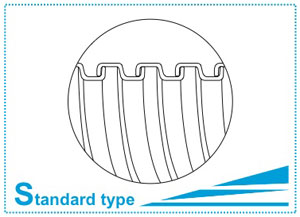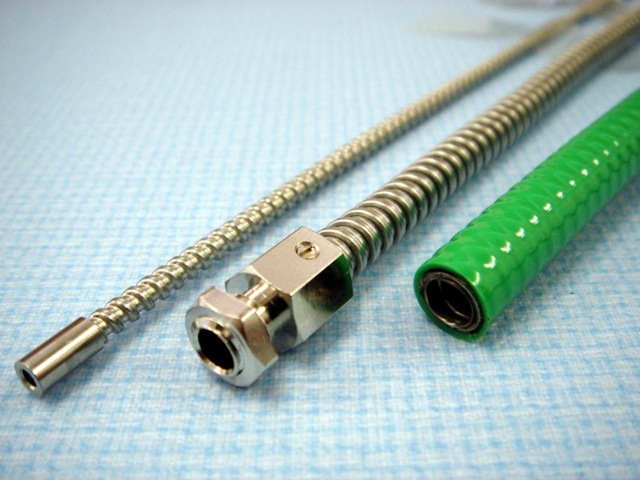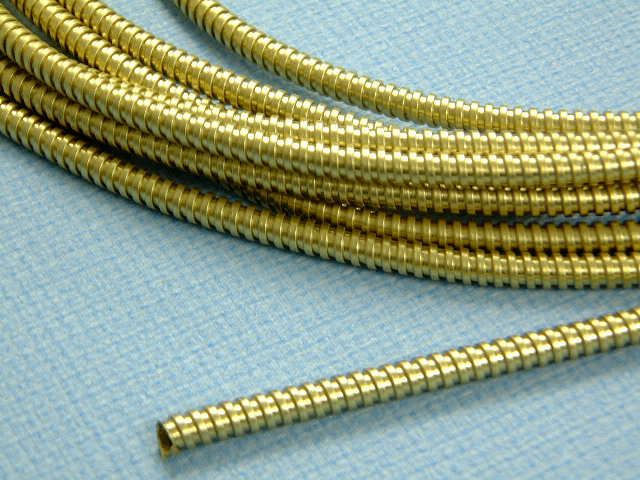 Also known as "Casing Tube (KS)"
Features:
General-purpose, standard 0 item
Lightweight
Pliable
Non-stretch
High tensile strength
Resists lateral pressure
Excellent bending characteristics
KSP & KSO types are mist-proof & oil resistant (standard color Black)
Standard Materials:
Flexible Tube: Stainless Steel
Sheathing: Soft Polyvinyl-Chloride (PVC), Olefin Elastomer (new product)
Please refer to the Available Materials & Services Page for other materials and sheathing styles available.
Optional Materials for
Flexible Tube: Titanium, Brass, Copper, Aluminum, Galvanized Copper
Sheathing: Polyethylene (PE), Silicone Rubber (Si), Fluorocarbon Resin (ETFE.FEP), Stainless Steel Braiding (B) of this catalog for more details.
Sheathing Combinations: Stainless Steel Braiding + PVC, Kevlar + PVC, etc.
Applications:
Optical fiber and sensor cable protection
Communication equipment
Medical devices
Arcade game machines
Robotics and automation
Lighting
Fiber scopes
Light guides
Measurement devices
About Standard Length:
Standard length of the tube is approx. 100m, consisting of two or three shorter lengths of tubing, for example: 75m+25m, 45m+55m. Please contact us when you need a seamless tube containing no connections
Notes:
Delivery time will be 14 to 21 days after receipt of order.
Upon request, we will accept orders for the insertion of optical fibers or cable harnesses into the tubing.
Standard type

Model

ID ±0.2mm (inch)

OD ±0.2mm (inch)

Bending Radius (mm)

Length (m)

Approx Weight (g/m)

Max Length one stretch (m)

0

KS-1.2N
1.2±0.1 (0.047)
2.3±0.1 (0.091)
23
100
12
250
○
KS-1.5N
1.5±0.1 (0.059)
2.6±0.1 (0.102)
23
100
14
250
○
KS-1.8N
1.8 (0.071)
2.9 (0.114)
23
100
15
300
○
KS-2.2N
2.2 (0.087)
3.4 (0.134)
20
100
16
300
○
KS-2.6N
2.6 (0.102)
3.8 (0.150)
20
100
19
300
○
KS-3N
3.0 (0.118)
4.6 (0.181)
18
100
30
300
○
KS-3.2N
3.2 (0.126)
4.8 (0.189)
18
100
32
300
○
KS-3.5N
3.5 (0.138)
5.0 (0.197)
19
100
34
300
○
KS-4N
4.0 (0.157)
5.6 (0.220)
19
100
36
150
○
KS-5N
5.0 (0.197)
7.0 (0.276)
24
100
45
100
○
KS-6N
6.0 (0.236)
8.0 (0.315)
25
100
60
100
○
KS-7N
7.0 (0.276)
9.0 (0.354)
27
100
62
100
○
KS-8N
8.0 (0.315)
10.0 (0.394)
30
100
75
100
○
KS-9N
9.5 (0.374)
12.3 (0.484)
31
50
110
50
○
KS-10N
10.0 (0.394)
12.7 (0.500)
32±8
50
115
50
○
KS-11N
11.0 (0.433)
13.7 (0.539)
33±8
50
120
50
○
KS-12N
12.0 (0.472)
14.8 (0.582)
33±8
50
125
50
○
KS-13N
13.0 (0.512)
15.8 (0.622)
31±8
50
130
50
○
KS-14N
14.0±0.3 (0.551)
17.0±0.3 (0.669)
36±8
50
135
50
○
KS-15N
15.8±0.3 (0.622)
18.9±0.3 (0.744)
36±10
50
170
50
○
KS-19N
19.1±0.3 (0.752)
22.5±0.3 (0.886)
50±10
50
210
15
○
KS-22N
20.8±0.3 (0.819)
24.8±0.5 (0.976)
70±15
50
215
15
○
KS-25N
25.4±0.3 (1.000)
29.2±0.5 (1.150)
80±15
50
225
15
○
KS-28N
26.4±0.5 (1.039)
30.9±0.5 (1.217)
80±15
50
340
15
○
KS-31N
31.8±0.5 (1.252)
36.0±0.5 (1.417)
90±15
30
490
 
○
KS-36N
35.0±0.5 (1.378)
39.5±0.5 (1.555)
100±15
30
540
 
▲
KS-39N
38.1±0.8 (1.500)
42.1±0.8 (1.657)
110±20
30
 
 
▲
KS-42N
40.0±0.8 (1.575)
44.0±0.8 (1.732)
110±20
30
 
 
▲
KS-51N
50.8±0.8 (2.000)
54.8±0.8 (2.157)
125±30
20
 
 
▲
KS-54N
51.3±0.8 (2.020)
55.3±0.8 (2.177)
125±30
20
 
 
▲
KS-63N to KS-104N / Special order
※ Standard 0
○=HAGITEC standard 0 item. 0 quantity will be 10 to 500m.
▲ = contact us
PVC coating type

Model

OD ±0.3mm (inch)

Length (m)

Approx Weight (g/m)

Max Length one stretch (m)

0

KSP-1.2N
3.0 (0.118)
100
18
250
○
KSP-1.5N
3.4 (0.134)
100
20
250
○
KSP-1.8N
3.7 (0.145)
100
25
300
○
KSP-2.2N
4.4 (0.173)
100
38
300
○
KSP-2.6N
4.8 (0.189)
100
40
300
○
KSP-3N
6.1 (0.240)
100
60
300
○
KSP-3.2N
6.3 (0.248)
100
62
300
○
KSP-3.5N
6.1 (0.240)
100
65
300
○
KSP-4N
7.0 (0.276)
100
66
150
○
KSP-5N
8.5 (0.335)
100
70
100
○
KSP-6N
9.2 (0.362)
100
100
100
○
KSP-7N
10.0 (0.394)
100
116
100
○
KSP-8N
11.4 (0.449)
100
120
100
○
KSP-9N
14.2 (0.559)
50
170
50
○
KSP-10N
14.7 (0.579)
50
175
50
○
KSP-11N
15.9 (0.626)
50
180
50
○
KSP-12N
16.6 (0.653)
50
190
 
○
KSP-13N
17.7 (0.697)
50
200
50
○
KSP-14N
19.0 (0.748)
50
260
50
○
KSP-15N
21.0 (0.827)
50
310
50
○
KSP-19N
24.5 (0.965)
50
325
15
○
KSP-22N
26.3±0.5 (1.035)
50
565
15
○
KSP-25N
32.0±0.5 (1.260)
50
580
15
○
KSP-28N
33.0±0.5 (1.299)
50
 
 
○
KSP-31N
39.5±0.5 (1.555)
30
 
 
○
KSP-36N
41.8±0.5 (1.646)
30
 
 
▲
KSP-39N
46.0±0.8 (1.811)
30
 
 
▲
KSP-42N
48.0±0.8 (1.890)
30
 
 
▲
KSP-51N
58.8±1.0 (2.315)
20
 
 
▲
KSP-54N
59.3±1.0 (2.335)
20
 
 
▲
KSP/OD can be produced upon customer request
※ Standard 0
○=HAGITEC standard 0 item. 0 quantity will be 10 to 500m.
▲ = contact us