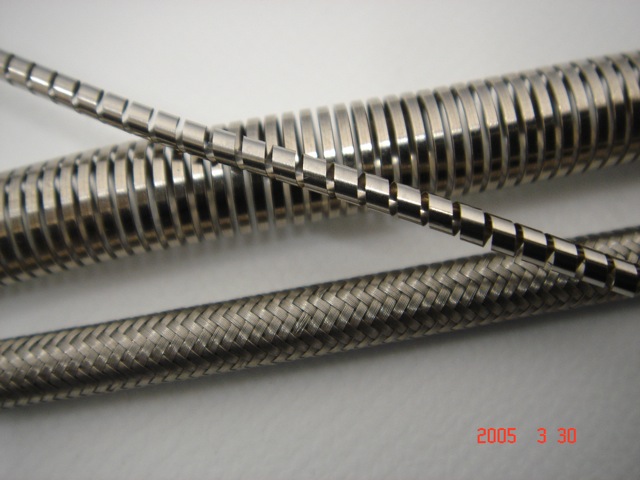 Also known as "Liner Tube (Mono-coil) (L)"
Features:
No interlockings, but rather a spring like stainless steel coil
Superior pliability
Resists lateral pressure
Ultra-thin
No limitation on the inner or outer diameter
Normally used with PVC sheathing or stainless steel braiding (applied to the exterior to prevent stretching)
Materials:
Mono-Coil: Stainless Steel, SK material, Flat Wire
Sheathing: Polyvinyl Chloride (PVC), Stainless Steel Braiding
Applications:
Optical fiber and sensor cable protection
Sheathing: Polyvinyl Chloride (PVC), Stainless Steel Braidi
Guide shafts, concrete vibrators, etc.
Guide shafts for lawnmowers (SK Material, Flat Wire)
About Standard Length:
Length is approx. 100m, obtained by connecting several shorter lengths (10 to 16 meters each piece)
Longer lengths (over 100m, depending on material and finished product) are available upon request.
Notes:
Inner diameters from 0.1mm up to approx. 22mm available. Product manufacturing is scheduled after receiving order. (Some items are in standard stock)
Custom lengths available
For PVC-sheathed models, D2 in the chart (see below) shows the outer diameter after sheathing
For extra-sturdy lateral pressure protection, a double-layered mono-coil structure is also available.
Standard type

Model
L-d-D-W-P

"d"   ID  mm (inch) 
"D"   OD
mm (inch)

"t" Wall (mm) 
"W" Width (mm)

"P" Pitch
(mm) 
Approx
Weight
(g/m)
Max Length
one stretch (m)
Stock
L-0.23-0.33-0.1-0.1
0.23 (0092)
0.33 (0.0132)
0.05
0.1
0.1
Please ask
Special order
L-0.7-0.8-1.2-0.3
0.7 (0.028)
0.8 (0.031)
0.05
1.2
0.3
3
10
▲
L-1.7-0.8-1.2-0.2
1.7 (0.067)
2.0 (0.079)
0.15
1.2
0.2
7
15
▲
L-2.2-2.6-1.2-0.2
2.2 (0.087)
2.6 (0.102)
0.2
1.2
0.2
12
15
▲
L-2.8-3.2-1.2-0.3
2.8 (0.110)
3.2 (0.126)
0.2
1.2
0.3
17
15
○
L-3.1-3.5-1.2-0.3
3.1 (0.122)
3.5 (0.138)
0.2
1.2
0.3
20
15
▲
L-3.5-3.9-2.0-0.1
3.5 (0.138)
4.1 (0.161)
0.2
2
0.1
25
20
▲
L-4.0-4.6-2.0-0.3
4.0 (0.157)
4.6 (0.181)
0.3
2
0.3
30
15
○
L-5.0-5.6-2.0-0.3
5.0 (0.197)
5.6 (0.220)
0.3
2
0.3
42
15
○
L-7.0-7.6-2.0-0.3
7.0 (0.276)
7.6 (0.299)
0.3
2
0.3
48
10
○
※ Standard stock
○=HAGITEC standard stock item. Stock quantity will be 10 to 500m.
▲ = contact us
PVC coating type

Model
LP-d-D-d2-W-P

OD
mm (inch) (d2)
Approx Weight (g/m)
Max Length
one stretch
(m)
Stock
—
—
—
—
—
LP-0.7-0.8-1.2-1.2-0.3
1.2 (0.047)
4
10
▲
LP-1.7-2.0-2.4-1.2-0.2
2.4 (0.094)
8
15
○
LP-2.2-2.6-3.2-1.2-0.2
3.2 (0.126)
14
15
▲
LP-2.8-3.2-4.2-1.2-0.3
4.2 (0.165)
19
15
○
LP-3.1-3.5-4.7-1.2-0.3
4.1 (0.161)
22
15
▲
LP-3.5-3.9-4.7-1.2-0.1
4.7 (0.185)
29
20
▲
LP-4.0-4.6-5.4-2.0-0.3
5.4 (0.213)
37
15
○
LP-5.0-5.6-6.5-2.0-0.3
6.5 (0.256)
50
15
○
LP-7.0-7.6-8.5-2.0-0.3
8.5 (0.335)
63
10
○
※ Standard stock
○=HAGITEC standard stock item. Stock quantity will be 10 to 500m.
▲ = contact us