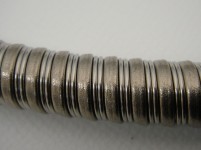 Also known as "Casing Double Spring Tube (KSWSP)"
Features:
Stainless steel wire is inserted into the spiral valley of the Square-Lock Type A (Casing Tube) to create a larger bending radius. It is also possible to modify the bending radius by changing the wire diameter and rod. (The wire rod will be stainless steel).
Can be made ultra lightweight and strong by adding a strip of titanium. (The wire rod will be stainless steel).
Excellent pliability and withstands repeated bending.
The doubling of the stainless steel wire produces a stable outer tube diameter. The increased stability eliminates elasticity and provides optimum protection for optic fibers, especially for quartz-type and hollow optical fibers.
Applications:
Protection for large bending radius optical fibers
Production is scheduled after receiving order.
Standard type

Model

ID
±0.2mm (inch)

OD
±0.2mm (inch)

Bending radius ±0.2mm (inch)

Standard Length (m)

Approx Weight (g/m)

Max Length one stretch (m)

0

KSWSP-2.6N
2.6 (0.102)
3.8 (0.150)
30
100
27
10
▲
KSWSP-3N
3.0 (0.118)
4.6 (0.181)
30
100
33
10
▲
KSWSP-3.2N
3.2 (0.126)
4.8 (0.189)
30
100
35
10
▲
KSWSP-3.5N
3.5 (0.138)
5.0 (0.197)
75
100
37
10
▲
KSWSP-4N
4.0 (0.157)
6.0 (0.236)
40
100
40
10
▲
KSWSP-5N
5.0 (0.197)
7.0 (0.276)
50
100
52
10
▲
KSWSP-6N
6.0 (0.236)
8.0 (0.315)
70
100
64
10
▲
KSWSP-8N
8.0 (0.315)
10.0 (0.394)
55
100
Please ask
▲
※ Standard 0
○=HAGITEC standard 0 item. 0 quantity will be 10 to 500m.
▲ = contact us
PVC coating type

Model

OD ±0.2mm (inch)

Standard Length (m)

Approx Weight (g/m)

0

KSWSPP-2.6N
4.8 (0.189)
100
40
▲
KSWSPP-3N
6.1 (0.240)
100
49
▲
KSWSPP-3.2N
6.3 (0.248)
100
51
▲
KSWSPP-3.5N
6.1 (0.240)
100
54
▲
KSWSPP-4N
7.0 (0.276)
100
59
▲
KSWSPP-5N
8.5 (0.335)
100
76
▲
KSWSPP-6N
9.2 (0.362)
100
94
▲
KSWSPP-8N
11.4 (0.449)
100
106
▲
※ Standard 0
○=HAGITEC standard 0 item. 0 quantity will be 10 to 500m.
▲ = contact us