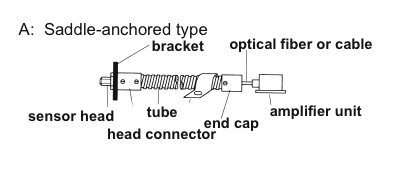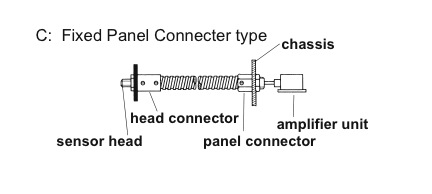 For more information visit our How to Order page.
Usage:
Sensor protection tubes of various lengths.
Connector
Screw-type benefits:
Easy to screw on and off as needed
Suitable for high temperature applications
Adhesion–type benefits:
Outer diameter of connector is small
Vibration resistant
Economical
How to select:
Choose between screw or adhesive-type connector.
Select the head connector according to configuration of sensor unit (screw size x pitch, cylindrical outer diameter) and the outer diameter of the optical fiber or cable.
Refer to the appropriate instruction example and pick the terminal fitting.
Choose tube (select an inner diameter larger than fiber/cable diameter).
Note:
Please contact us with the model and type of sensor you want to use if you would like assistance with the selection. We will be happy to assist you. Also contact us if you cannot find the correct connector for your sensor head configuration or require a customized solution.