On this page (quick links):
Assembly by users
Assembly at Our Factory
---
1. Assembly by users: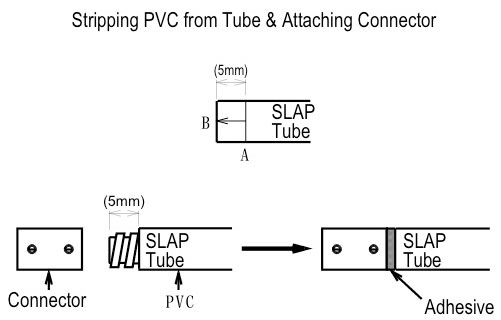 Please separately order Tube and Connector
Minimum order lot for tube: 10m
Minimum order for connector: 1
Note: How to put the connector onto KSP-series tubes:
Using a knife, cut PVC 5mm (A) from the edge of the tube
Slit tube, starting at (A) and ending at (B)
Peel off the PVC from the tube termination
Screw the connector onto the tube
Apply small amounts of adhesive between tube and screw connector to enhance strength.
Regarding Adhesion-type Applications:
Heat tolerances: –40 ~ +100°C on finished product
Adhesive: High Super 5 in this catalog (should be applied at room temperature)
2. Assembly at Our Factory: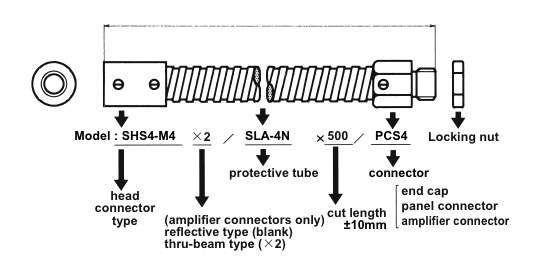 Standard Ordering Code:
(Type A) + (Optional B) / (Type C) x (Length D) / (Type E)
A = Connector type A
B = "X 2" for transmission-type, 'empty' for all others
C = Conduit type
D = Cut length (mm)
E = Connector type B

We can provide pre-assembled conduits with the proper connectors & inserts already affixed to the Hagitec conduits or tubes. Please refer to our Assembled Products page for more details and ordering instructions.